New Hampshire DraftKings Sportsbook Review & Bonus Code
$50 Free Bet on Your First Deposit + a $1000 Deposit Match Bonus
Pros
+

Betting Carousel. It offers the players suggestions based on their previous selection of games on the site. It makes searching for the games much more comfortable and convenient.
+

Simple Language. The language used on the DraftKings Sportsbook site and the mobile app is quite simple and understandable by a wider audience. Through this attempt, they have been able to garner more players to their platforms.
+

Variety. There is no denying that DraftKings Sportsbook offers a variety of games for its New Hampshire community. You can rest assured that you will never run short of entertainment and fun on that platform.
+

Flexible. One of the reasons which repel gamblers is the rigidity of the online casino's banking system. However, it is not the same as DraftKings Sportsbook. You are provided with multiple options, which will make depositing and withdrawing money a lot more manageable.
+

Branding. DraftKings is very particular with its branding and has maintained its color scheme throughout the site and the apps. It makes the bettors recognize them instantly and feel closer to them.
Cons
⨯

No Specific Loyalty Program. There are a lot of loyalty bonuses and special offers put forth by this online sports betting platform; however, there is no designated program that rewards wagerers with perks and bonuses as they climb higher.
⨯

No Casino Cage. New Hampshire residents cannot avail of the feature of casino cage while depositing and withdrawing their money. Having one lets you deposit funds at their in-state land-based casino partners. However, the laws of the land do not permit a brick and mortar gambling site to operate with state boundaries.
⨯

Can Be Addictive. As there is a saying that says that too much of everything is terrible, so is online gambling at DraftKings Sportsbook. Getting addicted to it may harm your life in several ways. You may also get into trouble financially, which will not end on a good note.
Screenshots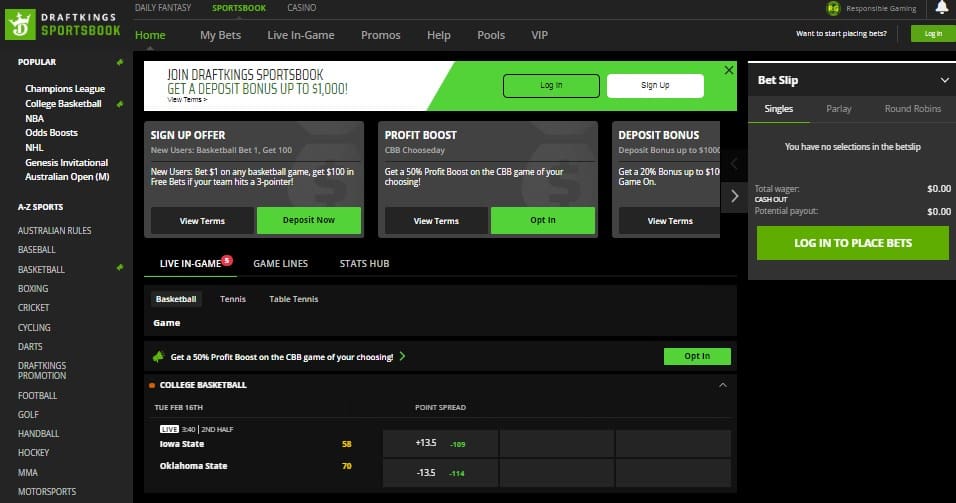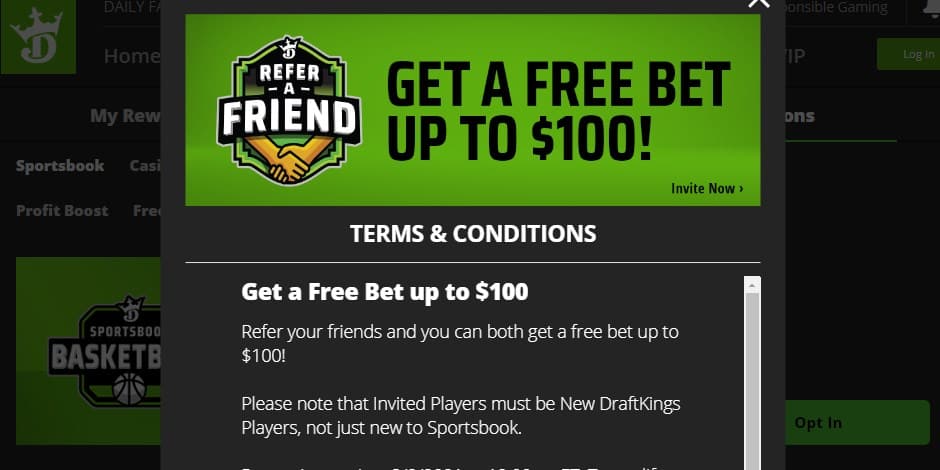 Online sports betting is relatively new in New Hampshire as it was only made legal in July of 2019. DraftKings Sportsbook set its foot in this US state to utilize the first opportunity out of it in December 2019. This online casino provides numerous opportunities through its Sportsbook to wager on American and international sports events. With its unique offerings, DraftKings has been able to garner a massive fanbase among the gambling enthusiasts of New Hampshire. The Sportsbook security assurance has also been successful in building a sense of security and trust in the bettors. You do not have to install any extra software to enjoy it on your PCs; all that is required is to register, fill in your details, signup, and there you are all set to begin.
List of Sportsbooks for the Best Betting Experience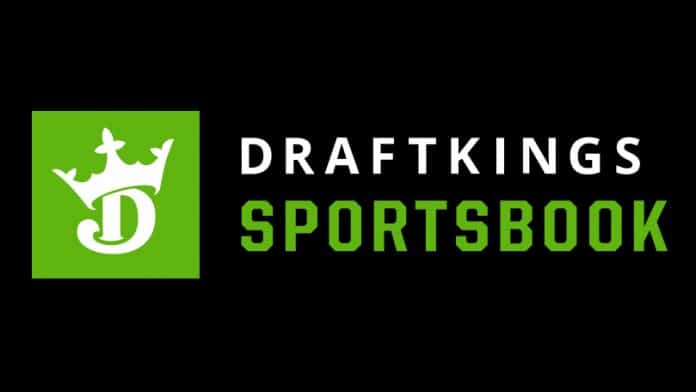 The New Hampshire DraftKings Sportsbook app is equally making its mark in the state. With its state-of-the-art user interface and excellent graphics, it makes sports betting online more exciting and thrilling. The apps make wagering accessible and convenient. You can gamble as you lay on your bed or while you commute to your workplace; there are no physical restrictions as long as you are 18 years and above and a New Hampshire resident. This NH DraftKings Sportsbook review will unveil what is in store for you.
Promo And Bonuses Offered By DraftKings In New Hampshire
DraftKings is a pro when it comes to utilizing its marketing techniques to attract new players and retain existing and loyal ones. New Hampshire DraftKings Sportsbook bonus is enticing, and a wagerer cannot resist it.
Deposit Bonus
You can put in up to $1000, and DraftKings will make a 20% match of your deposit. In other words, the more you deposit, the better the match. However, it requires you to have a 25x play-through for the bonus. To be eligible for it, you will have to:
Be a New Hampshire resident
Register on DraftKings Sportsbook
Make a deposit
Freebet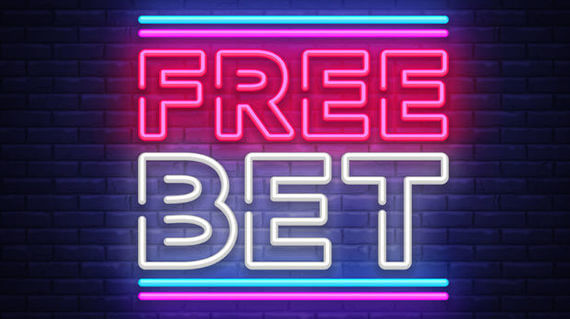 You can earn a free bet if you refer a friend who is not only new to Sportsbook but DraftKings as well. Both you and your friend will make a free play with the bonus code on DraftKings sports betting.
What Are The NH DraftKings Sportsbook Loyalty Programs And Special Offers?
Crowns
When you play more, you get better rewards. You earn points known as crowns ($1 equals one crown) by betting on its various contests. These points will decide your Daily Rewards Status levels. With it, you can buy merchandise and enter other competitions.
Contest Tickets
When you are a loyal bettor, you also get DraftKings contest tickets, which allows you to enter them for free, with chances of winning some significant amount of real money.
DK Dollars
It can also be termed as DraftKings online casino cash that you can use to try your luck on various games.
VIP
DraftKings extends a special offer such as VIP, to enter which you need invitations. It is nothing short of a royal treatment, where you can enjoy promotional offers that are a level higher, exclusive benefits, the best of customer support, and access to contests that can be personalized.
What Are The Sports Available At DraftKings Sportsbook In New Hampshire?
DraftKings Sportsbook offers all the sports that Americans love for online wagering. They are:
College Football Betting
NBA Betting (National Basketball Association)
NFL Betting (National Football League)
College Basketball Betting
MLB Betting (Major League Baseball)
NHL Betting (National Hockey League)
Tennis Betting
Golf Betting
NASCAR Betting (National Association For Stock Car Auto Racing)
Combat Sports Betting
Soccer Betting
What Are The Different Types Of Bets That You Can Place On DraftKings Sportsbook In New Hampshire?
Gambling with real money on online sports demands wagerers to be aware of the various bets they can place. Not knowing them will only lead to a terrible loss of money. The chances that you can set are:
Point Spread
It is one of the most common bets available and that bettors like to wager on it. In this type, the Sportsbook will pick a team and decide that it will win over the other by a certain number. Now, the wagers are put on whether the chosen winning team will surpass the said number, or the loss will do so by a lesser margin. And, when the latter does so, it is known to cover the spread.
Moneyline
Only the winner matters in this type of wager, not the points with what they have won. DraftKings will determine various payouts for different possible winners. The favored teams are usually assigned negative three digits, and, on the other hand, the underdogs are getting positive three numbers.
Totals
Totals are yet another most sought-after bet in American sports betting. These are popularly known as the 'over/under.' It is because wagerers have to determine whether the Sportsbook-decided scores for the teams are high or low. So, the gamblers bet 'under' if they feel the numbers are too high and wager 'over' if they think it is too low.
Futures
The title is relatively self-explanatory. Gamblers bet on future events, such as a specific team winning a championship or an athlete bagging a particular goal with their performance.
Parlays
You can place bets on more than one event. However, all of them should be a hit. It gives you an opportunity to win real big at online sports events.
Game Lines
A bettor places his/her wager on the outcome of the event, such as who will cover the spread, or who will score how many points, etc.
Pools
It is another exciting gamble, where you pick multiple results and challenge other wagerers. The more you can hit, the better your chances of winning.
DraftKings Sportsbook Mobile/Apps In New Hampshire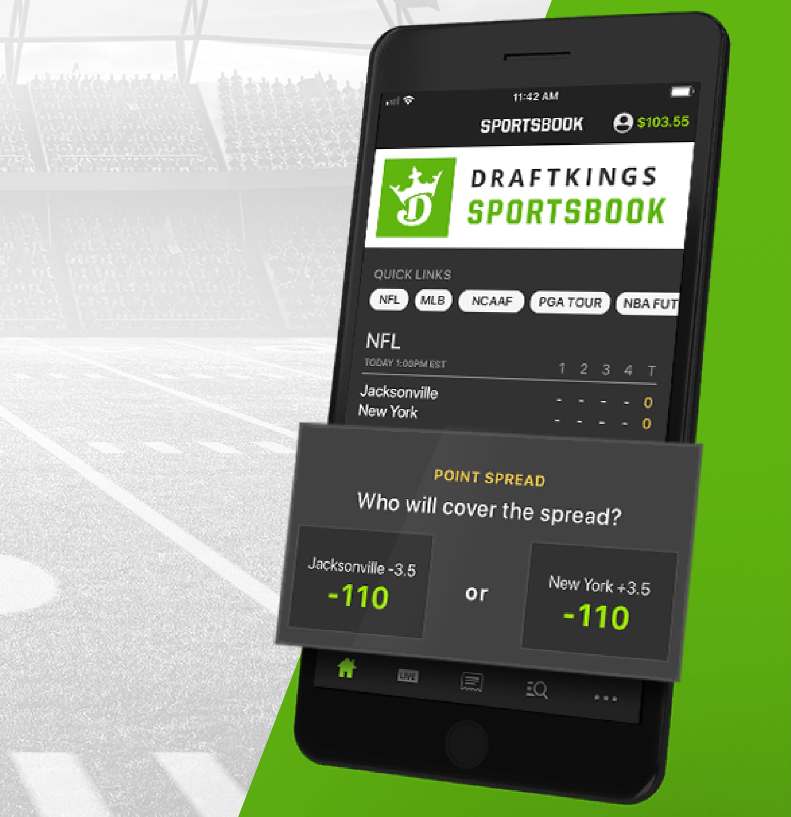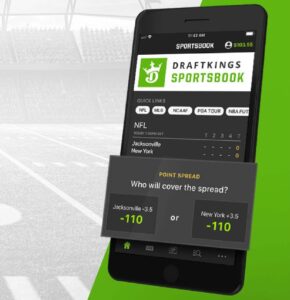 As DraftKings delivers the best on its online platform in New Hampshire, it is equally competent with its mobile applications. You can enjoy online sports betting from your comfort zones using your various mobile devices – Android and iOS. No need to travel unnecessarily for long distances to enjoy a betting game. These apps offer you the best gambling experience with their quick interactive system and with only a few touches. You also do not need several equipment types; all you need is a mobile device and a good and stable internet connection.
The best part about DraftKings Sportsbook is that it is compatible with almost all Android smartphones, iPhones, tablets, laptops, and desktops. For mobile devices, you have to download the software to enjoy DraftKings Android app as much as you want from anywhere and anytime. You need to be 21 to be able to bet on the various games.
What Are The Deposit And Withdrawal Options Available At NH DraftKings Sportsbook?
Keeping in view the players' convenience and accessibility, DraftKings Sportsbook is quite flexible in terms of its banking options in New Hampshire. The choices they provide for deposits are:
Bank transfer
Debit Card
Credit Card
PayPal
Play+Prepaid
PayNearMe
The online gaming platform offers the following options for withdrawal.
What Are The Pros And Cons Of Betting At NH DraftKings Sportsbook?
Like any other online casino, DraftKings Sportsbook has its share of pros and cons, too. We have listed a few of them below for your reference.
Final Thoughts
The overall experience for New Hampshire residents on the DraftKings Sportsbook site and mobile applications is quite impressive. It has opened an opportunity for gamblers to try their hands on online sports betting after being made legal in the state. The user interface and the variety of games available also ensure that once a bettor gets a taste of it, they cannot resist it. If you are a gambling enthusiast, too, you should definitely try your cards on this New Hampshire site at least once in your lifetime. I bet you will never regret it.
Choosing the right sportsbook is a complicated process that requires you to check different platforms before you start playing. Fortunately, we prepared all information in our reviews, so it is highly recommended to read these articles to learn more about other websites in New Hampshire and pick up the best one:
Frequently Asked Questions
Is DraftKings online Sportsbook legal in New Hampshire?

Yes, it is. Online sports betting was made legal in New Hampshire in July 2019, and in December 2019, DraftKings Sportsbook set their digital foot in the state.
Who can play at DraftKings in New Hampshire?

Anyone who is above the age of 18 and a resident of New Hampshire, United States of America, can play at DraftKings in the state.
Does DraftKings charge fees in New Hampshire?

DraftKings Sportsbook does not charge any fees unless you decide to wager with real money.
Are DraftKings winnings taxed in New Hampshire?

No, DraftKings Sportsbook is not taxed in New Hampshire, but they share revenue according to the licenses issued to other operators.
How long does it take to withdraw from DraftKings Sportsbook in New Hampshire?

It takes around 2-8 business days to process your request to withdraw your wins in New Hampshire.